HERITAGE SQUARE BLOCK OF THE MONTH

Sign up Deadline January 20, 2018

Come join us for the Heritage Square BOM by Whirligig Designs. The program begins on February 1, 2018.
For 12 months, around the 1st of the month, you will receive a package that will contain all the fabric and the pattern to complete one block design. Each design will require you to make several versions of the same block.
In the 12th (the last) month you will receive the last block instructions and the finishing fabrics to complete your quilt top. Your quilt will have the same exact fabric used in our sample. Completed quilt size is 103" by 103".
Registration for this class is $24, which will be applied to the last month's kit; registration fee is non-refundable. Monthly kit fee is $24 plus any shipping charges if you request shipment

***************************
KIM DIEHL'S SIMPLE WHATNOTS, COLLECTION 7
& STITCH ALONG PROGRAM: PRIDE & JOY


We are expecting to receive Kim's new fabric line, the Helping Hands Collection, in late December/early January. There are 8 great projects in the Simple Whatnots Collection 7 Club. The Stitch Along Program is a 6 part series which will be run like a Block of the Month program.


Our initial offering will be for her new Stitch Along, Pride and Joy, a beautiful quilt completed as a Block of the Month program. We will be starting this in March 2018. Fabrics for this quilt top are all from this new line, it is a 6 month program. Each month you will receive the fabrics and pattern for a section of this quilt. The cost of this BOM is $37 per month, plus shipping if you choose not to pick up in the Shop.


KIM DIEHL SIMPLE WHATNOTS CLUB 2018
New Format for the Simple Whatnots Club! No Club Fee!
8 Beautiful Quilts designed exclusively for the Simple Whatnots Club,
Each featuring Kim's new line Helping Hands.

Click here for full view of projects.


Sign up starting NOW, continuing through March 31.
Pre-Order of Kits due by March 31, with Kits available April.
***************************
GRAPHIC GEMS BLOCK OF THE MONTH
From Design by Sarah J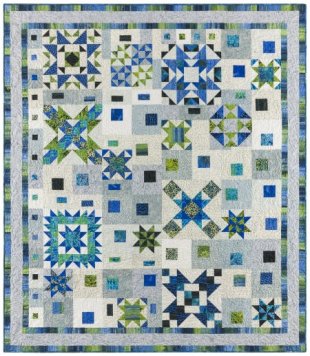 Sunshine Stitches of Belvidere and Quilter's General Store have teamed up to bring you a stunning new Block of the Month program! Graphic Gems, Design by Sarah Maxwell of Sarah J Designs and fabric from Sarah's Primo Batik collection by Marcus Fabrics! We are so excited to bring this great design to you. Sunshine Stitches will be offering this quilt in the Lapis & Emerald, a cool tone colorway and Quilter's General Store will be offering it in Garnet & Sapphire, a warm tone colorway.
This will be a 9 month block of the month program. Fabric requirements include pre-cut 10 ½" square packs plus yardage for borders and binding. The quilt size is 76" x 87".


Monthly cost of this BOM is $32.00 for pick up;
add postage for shipping.


BOM will be starting in March 2018; Choose which colorway you like and then call the offering Shop now to sign up for your color choice of this beautiful quilt.
***************************

CADENCE COURT BLOCK OF THE MONTH
Design by Sassafras Lane Design
Cadence Court Block of the Month designed by Sassafras Lane Designs featuring "Foundation" by Shayla Wolf for Windham Fabrics.


Cadence Court is a fresh take on a popular Block-of-the-Month style quilt! This program features 12 unique wedge designs, each repeated twice, that make up a modern circular design. Included in the pattern book are full-size foundation patterns and templates, full color diagrams, complete paper-piecing instructions, a coloring sheet, swatch sheet, 8 different quilt color ways to give you endless ideas and more!


Time to try a new technique! This 12 month block of the month will be a paper pieced project. Don't be scared! It's easy. To help beginners through this project or simply provide a refresher on paper piecing we will be offering a sewing session each month dedicated to working on this project. The quilt is constructed in a series of wedges and then wedges are put together, forming quarter circles which are finally sewn together. Simple!


This BOM will begin in June 2018 and run for 12 months at a cost of $15 per month. Kits will include Cadence Court Pattern Book, and all fabrics needed to complete the top and binding. The finished quilt is approximately 60" x 60" quilt.


***************************

GETTING TO KNOW HUE
12 Month BOM by Nancy Rink
Starting March 2017
$30 per month



Sorry signups for this BOM are now closed.


****************
All of our Special Programs or Monthly Programs require a commitment from you for the length of the program. Signing up for a Block of the Month is the same as putting a quilt on "lay-away". You are making a commitment to purchase the entire set of patterns or kits. There are NO exceptions to this rule, so please don't ask if you can discontinue a program once you've joined in.

Please note that in general our BOM programs provide for the fabrics to complete the quilt top only. If backing is included in the program it will be expressly stated as so.


****************************
Quilter's General Store...A quilter's destination for supplies & inspiration!