As always, class supplies are 15% off and you always receive a 15% discount on all purchases made the day of class! (Some exclusions may apply)

NEW!!!!!

WATCH FOR THIS CLASS TO RETURN IN THE SPRING 2019


Introduction to Free Motion Quilting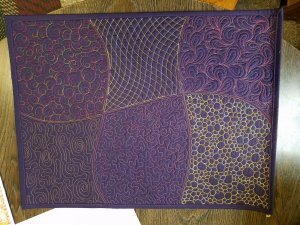 Introduction to Free Motion machine quilting with your domestic sewing machine in this two session class

. This class is for the quilter who is new to machine quilting or is confident with some things and would like a little guidance! With Kristin's individualized attention to each student, this class is for everyone from beginner to those who want to brush up or refine their machine quilting skills.

Learn about threads, needles, batting and so much more.

When: Saturday, September 29 & October 6, 2018
Time: 10 am to 1 pm
Class Fee: $45
Instructor: Kristin Kulinski

****************

SPECIAL CLASS TAUGHT BY MONIQUE JACOBS
MYSTIC


SATURDAY OCTOBER 27
10 am to 3 pm
Mystic Quilt class with our beloved Monique is on the calendar for Saturday, October 27 from 10 to 3 class is $45 and kits will be available... call Quilter's General Store, Rockford, IL at 815-397-5160 to reserve your place and order a kit if you need one

****************
Beginning Quilting Class




Watch for an announcement of our 2019 Spring Session

If you are interested please give us a call.
Class Fee: $75

Minimum of 3 students per class required to conduct the class.
***************

Class Cancellations
Every class we offer has a minimum number of students required to hold the class. When that minimum is not met, the class will be cancelled. We do cancel our classes 2 weeks prior to the actual class date when that minimum is not met.
At that time, a the full class fee is refunded.
Also, if you need to withdraw from a class you have signed up for, you need to notify us at least 2 weeks prior to the class in order to receive a refund. Thank you!
Quilter's General Store...A quilter's destination
for supplies & inspiration!
6903 Harrison Ave., Rockford, IL 61108
Store Hours: Mon -Fri 10-5, Sat 10-4, Sunday - Closed