NEW!!!!!

WATCH FOR THIS CLASS TO RETURN IN THE SPRING 2019


Introduction to Free Motion Quilting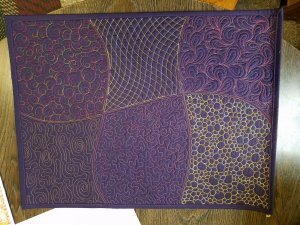 Introduction to Free Motion machine quilting with your domestic sewing machine in this two session class

. This class is for the quilter who is new to machine quilting or is confident with some things and would like a little guidance! With Kristin's individualized attention to each student, this class is for everyone from beginner to those who want to brush up or refine their machine quilting skills.

Learn about threads, needles, batting and so much more.


****************

Beginning Quilting
Class

NEW BEGINNING QUILTING CLASS SCHEDULED!
2019 Spring Session will start Saturday April 13! 12:30 pm to 3 pm, 6 Sessions total.
For those of you who have basic sewing knowledge and have always wanted to make a quilt, the time has arrived! In this class we will teach and guide you as you begin your quilting journey! This 6 session course will introduce you to quilting, with a focus on choosing fabric, proper tools, seam allowances, cutting, thread, etc. Basic knowledge of your sewing machine is a prerequisite.
Minimum of 3 students per class required to conduct the class.
Class Schedule: 4/13, 4/20, 4/27, 5/4, 5/11, 5/18
Cost: $75
***************

TUCKER UNIVERSITY IS COMING TO QGS!
Are you interested in building your skills & the accuracy of your piecing? Then QGS has the program for you! This year we will be offering the Tucker University series of classes. Each class covers a different Studio 180 Design tool along with ways to expand the use of the tool. Students will make 4" finished units so that they can combine and create new blocks. The creativity is contagious!
Each session we will demonstrate a specific ruler and the various design options the ruler gives you. There will be no class fee for this series but the purchase of the Studio 180 Ruler being featured will be required. We are certain that you will find it a valuable tool in your piecing. Registration deadline for each month will be set.
These classes will be meeting every other month on the third Saturday from 10 am to 12:30 pm, starting on February 16.
***************


Class Cancellations
Every class we offer has a minimum number of students required to hold the class. When that minimum is not met, the class will be cancelled. We do cancel our classes 2 weeks prior to the actual class date when that minimum is not met.
At that time, a the full class fee is refunded.
Also, if you need to withdraw from a class you have signed up for, you need to notify us at least 2 weeks prior to the class in order to receive a refund. Thank you!