Quilter's General Store Classes
As always, class supplies are 15% off and you always receive a 15% discount on all purchases made the day of class! (Some exclusions may apply)

Please note: During this pandemic time, we have our classroom setup to assure proper social distancing and ask that all teachers & class participants wear a face mask during the class session. The classroom is thoroughly cleaned & sanitized before & after each class. Hand sanitizer and cleaning wipes are available in the classroom.

By participating in our class offerings, the Participant recognizes the risk of possible exposure to and illness from infectious diseases and knowingly & freely assumes all such risks. Further, by participating is these offerings, the Participants agree to self-monitor for signs and symptoms of COVID-19 (symptoms typically include fever, cough, and shortness of breath) and, contact QGS if he/she experiences symptoms of COVID-19 within 14 days after participating in this event with QGS.
***************

Anticipating a FALL 2023 Session - keep an eye out for new information on this upcoming class in Mid Summer!


For those of you who have basic sewing knowledge and have always wanted to make a quilt, the time has arrived! In this class we will teach and guide you as you begin your quilting journey! In this series you will be making a three-block table runner, this 5-session course will introduce you to quilting, with a focus on choosing fabric, proper tools, seam allowances, cutting, thread, etc. Basic knowledge of your sewing machine is a prerequisite. Purchase of a book and the fabric for the class project is required.


***************

MACHINE APPLIQUE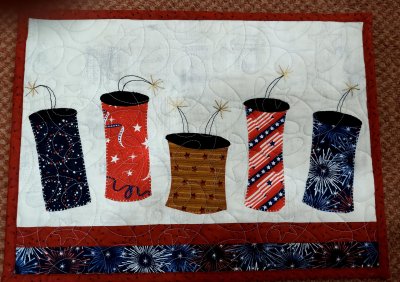 Saturday May 20, 10 am to 3 pm
Instructor: Jan Frederickson
Class Fee: $24
******************
BEGINNING WOOL HAND APPLIQUE
Saturday June 10, 10 am to 3 pm
Instructor: Lesley Gebbie
Class Fee: $24
Wool Kit with pattern purchase required
***************
Class Cancellations
Every class we offer has a minimum number of students required to hold the class. When that minimum is not met, the class will be cancelled. We do cancel our classes 2 weeks prior to the actual class date when that minimum is not met. At that time, a the full class fee is refunded. Also, if you need to withdraw from a class you have signed up for, you need to notify us at least 2 weeks prior to the class in order to receive a refund. Thank you!


Quilter's General Store...A quilter's destination
for supplies & inspiration!
6903 Harrison Ave., Rockford, IL 61108
Shop Hours Monday - Saturday 10 am to 4 pm, Closed Sunday