SATURDAY NOVEMBER 12, 10 am
PLUS, PRE-BLACK FRIDAY SALE STARTS


It's that time of year! Our Annual Sample Sale is coming up soon.
We will have a selection of retired quilts, table runners, and more! All will be set up in our Classroom (lower level)


Pre-Black Friday Sale continue through Wednesday November 23.
We will have 25% off all Christmas fabric by the yard (1 yard minimum) and all Christmas Kits.


Mark your calendar for this upcoming events.

NEW CLASS ON THE SCHEDULE!!!
Saturday November 19Make It & Take It Class
No Sew 3D Fabric Snowflake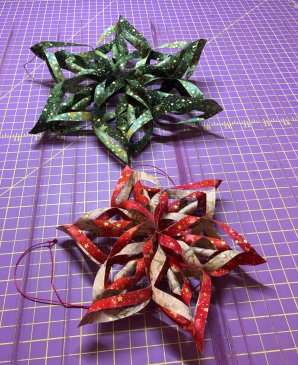 2 Sessions – 10 am to Noon or 1 pm to 3 pm
At sign up, you will receive the pattern that makes 6 different sizes.
NO special ruler required!


Instructor: Jan Fredrickson
Class Fee per Session: $10
Sign up required


******************


NEW BLOCK OF THE MONTH STARTING JANUARY 15, 2023!
RAINBOW SAMPLER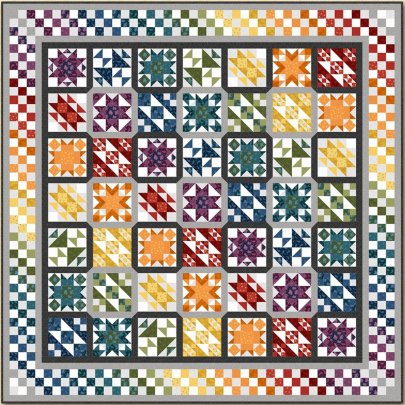 This BOM is a 10-month program from Kaye England for Wilmington Prints. The Sampler is bright & cheerful and is a great start for quilters with the basic knowledge of quilting. The quilt is 93" square and is mostly constructed with half square triangles, nine patches, and a few flying geese.


The program will cost $29 per month, which includes the fabric & instructions for that month's blocks. Your kit will also include borders and binding.


This is a pickup at the Shop, or we can mail it to you for a small fee each month, anytime after the 15th of each month.


Call the Shop (815-397-5160) now, we have a limited number of kits available.
ANNUAL MYSTERY QUILT RETURNS IN JANUARY!

Inspector "Clue-Sew" will be presenting "Sew It Goes" starting January 2, 2023. The program runs for 6 months. Each month you stop in the shop and pick up your "CLUE."


The finished quilt will be 57" x 74" without borders. It takes 4 colors. As always, the "CLUES" are no charge, but we do ask that you purchase your fabric for this project at QGS. Of course, you get 15% off your purchase.


Call the Shop to sign up today!


******************
ANNUAL PhD RETREAT

Sew Save the Dates - January 13, 14, & 15, 2023 Holiday Inn, Rockford.
STARTING NOVEMBER 1ST
We will be taking signups from Quilters who were at the Retreat last year (sorry but we are giving first chance to returning Quilters).


Space is limited. So, if you are a "Repeat Retreater" and want to attend the 2023 Retreat, call the Shop starting November 1st to reserve your place.


Open registration will then start Tuesday November 8th; sorry we cannot take any signups until that time.


A non-refundable deposit of $100 is required at time of registration.
As Professor "Sew-It-All" says, "There will be plenty of "F's" to be earned at this "PhD" Retreat……
Fabric, Fun, Food, Friendships & Finished!"


Cost of $250 (dbl occupancy) or $348 (single occupancy) with $100 due at signup. Four meals included in cost.


******************


SOME IMPORTANT DATES FOR UPCOMING SHOP CLOSURES!


The Shop will be closed on THANKSGIVING DAY Thursday November 24 as well as Friday November 25 & Saturday November 26 so our employees can enjoy a weekend retreat!


Shop will also be closed for the Holiday Season, December 24, 2022, thru January 1, 2023, so we can enjoy Holiday time with our families.


ENJOY YOUR TIME WITH FAMILY & FRIENDS DURING THE UPCOMING HOLIDAYS!


******************


WINTER WEATHER POLICY


As we approach the winter weather season, we are thinking about methods of deciding and communicating any closures. If the weather is threatening (warnings, advisories, etc.) it is always best to call the Shop (815-397-5160) first to make sure we are open. And bad weather could also result in an early closure of the Shop.


We want everyone to be safe and not take any risk with travel. We will change our answering machine message to reflect any closures. We will also use Facebook and our website to post any notices on weather related closures. So please call first.


Here is a look at upcoming activities:


Saturday Sampler, Saturday November 5, 10 am
Annual Sample Sale, Saturday November 12, 10 am
Make & Take It, Saturday November 19, 10 am or 1 pm
Pre-Black Friday Sale, November12 thru November 23
Shop Closure November 24, 25, 26, 2022
Shop Closure December 24, 2022, thru January 1, 2023


Quilter's General Store – A Quilter's destination for supplies & inspiration!
6903 Harrison Avenue, Rockford, Illinois 61108
Shop Hours: Monday through Saturday 10 am to 4 pm