August 21, 2020
FARM FEST 2020
SEPTEMBER 18 & 19

For those of you who are registered for this year's Farm Fest and you want to spend Friday night at the Holiday Inn, a block of rooms has been made available for Friday night September 18. The block is under Quilter's General Store and the group rate is $109.95 plus tax for a double. You are responsible for making your individual reservation and payment. Reservations must be made by September 7, 2020 to get this discounted rate.
Holiday Inn at 7550 E. State St, Rockford, phone number is 815-398-2200.
******************
Just received our last Holiday Fabric Line! It is so cute!
Timber Gnomies by Henry Glass

View the full line by clicking here

******************
Northern Illinois Shop Hop
HAS BEEN CANCELLED FOR THIS YEAR
As you know the start of this annual summer event was delayed until this fall, scheduled to start in September. However, due to the continuing uncertainty of these times with the virus, the decision has been made to cancel this year's event. We are now planning to bring the event back Summer 2021.
Everyone stay safe and healthy out there. We will get through this!
******************
TUCKER UNIVERSITY
LEMOYNE STAR ADVANCED I
Wednesday September 9 or Saturday September 12, 12:30 to 3
This month we will be going back to the Rapid Fire Lemoyne Star ruler. We covered the basics in an earlier class, now for the next 2 months we will look at some advanced techniques using this ruler and different construction techniques. Three advanced blocks use strip piecing techniques: Strip Pieced Lemoyne Star, Banded Lemoyne Star, and Liberty Lemoyne Star.
Purchase of the ruler (if you already have this ruler that's great!) and 3 technique sheets are required.
SIGN UP DEADLINE IS WEDNEDAY SEPTEMBER 2. Please let us know if you will be attending this class and which day so that we can have the necessary supplies available for you! And for those of you have regularly attended this series of classes you will receive an email; please respond to that on whether you will be joining us for this class on which day too. Also please let us know if you already have the ruler.
******************
Great Stash Dash 2020
5th Saturday August 29

Don't forget 5th Saturday is coming up. Bring in your Great Stash Dash bag and get 15% off your entire purchase (some restrictions apply).
******************

JUNE 21 – SEPTEMBER 8, 2020
We are certain that all of you remember the fun of past years' Row by Row event. Well it has been changed up a bit. It is now Quilters Trek!
The theme for 2020 is "True Blue".
This is our Quilters Trek 18" Block

The block is an 18-inch finished block that fits the requirements for the Quilters Trek quilt. Patterns are available only by visiting in person the participating Shops. We also have available fabric kits for purchase. These kits include fabric, pattern, & a specially designed fabric token (limited number of tokens available). Please note that kits are also available for curbside pickup or shipment when ordered via by phone, email, or Facebook message.
The Quilters Trek Quilt Challenge is also on for 2020. Trekkers may create a quilt using a minimum of 32 9-inch blocks (ours qualifies as 4 blocks) designs from at least 8 participating QTrek Shops. The first 2 Trekkers to bring a completed (quilted, bound, labeled) quilt to a participating Shop between July 15 and October 15 will receive 15 fat quarters. A bonus prize will be awarded if the quilt contains the Shop's block!
So, Let's Get Trekking!
******************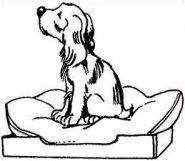 Please note we are pausing the collection of fabric scraps for Shelter Dog Beds for the time being. We will let you know when this collection resumes.
Thank you for you past contributions.
******************

Remember we have resumed the "Nifty, Nifty Buck One Fifty" sale on precut Fat Quarters! Sale will run every Tuesday now through August 25.
In Store Offer Only!
This is a great time to stock up on Fat Quarters!
******************
ANNUAL "SPRING" BUS SHOP HOP

This trip scheduled for October 10 & 11 has now been CANCELLED! The situation with COVID 19 is just not stable enough to run this trip. All the Shops participating agreed to this cancellation and are committed to a reschedule date of June 12 & 13, 2021. Hopefully, all will be back to "normal" by these dates.
As we previously state if the trip is cancelled due to the COVID 19 situation, we will gladly refund your payment. You have options for this:
Full refund, or
Shop Gift Certificate for your payment amount, or
Apply your payment to this new date.
Please call the Shop 815-397-5160 to let us know how you would like to handle this.
******************
STAY SAFE & HEALTHY!
******************
Upcoming Calendar Items
Labor Day Weekend, CLOSED, Saturday 9/5 & Monday 9/7
Tucker University, Wednesday 9/9, or Saturday 9/12, 12:30 pm
Farm Girl Vintage 2, Saturday 9/12, 10 am
House in the Middle, Group 1, Thursday 9/3
House in the Middle, Group 2, Thursday 9/10
******************
Quilter's General Store – A Quilter's destination for supplies & inspiration!
6903 Harrison Avenue, Rockford, Illinois 61108
Shop Hours: Monday through Saturday 10 am to 4 pm
Closed Sunday
815-397-5160