HOTFLASH!
September 1, 2023
PLEASE NOTE QGS WILL BE CLOSED ON
MONDAY September 4
*****************
SEATS AVAILABLE FOR THE UPCOMING BUS TRIP!
Friday, September 8. 2023
Plan to join us for our One-day trip to the Great Wisconsin Quilt Show!
The Show is scheduled for September 7 – 9, in Madison.
Cost: $50, includes transportation and admission to the Show.
Sign up info NOW!
Pick up at Sunshine Stitches, Belvidere, at 8:30 am
Then Pick up at Quilter's General Store at 9 am, please be here by 8:45 am, parking available behind the barn buildings.
Bus will leave Madison at 3 pm, expect arrival at QGS approximately 4:30 pm
*****************
ALL ILLINOIS SHOP HOP
Continues through Saturday, September 30
The NORTHWEST REGION HAS A SHOP HOP SUNDAY ON September 10th! Plan your road trips to catch our region on this Shop Hop Sunday for an extra day of shopping! Shop hours on this day will be Noon to 4 pm!
Get your AISH fabric here!
Stop in to see our wall hanging created in the AISH fabric!
The quilt measures 48" x 48", Kits are available.
Kit cost $58, includes fabric, pattern, & binding
******************
Great Stash Dash Saving Saturday
Remember the Great Stash Dash 2023 held in January/February 2023. Well, we have a Great Stash Dash Saving Saturday on September 30. Find that GSD bag and bring it in to receive 15% off your purchases that day! Of course, if you still have your bonus coupon, you have until the end of the year to cash in on the savings it provides!
******************
ONGOING SPECIALS
DOUBLE PUNCH WEDNESDAYS
Every Wednesday in 2023 will be DOUBLE PUNCH DAY on your punch card for fabric purchased off the bolt (1-yard minimum purchase required, sale fabric excluded from punch card).
******************
NEW CLASS ADDED TO OUR SCHEDULE!
OUR POPULAR BEGINNING QUILTING CLASS IS RETURNING!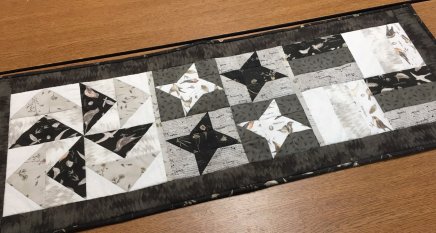 For those of you who have basic sewing knowledge and have always wanted to make a quilt, the time has arrived! In this class we will teach and guide you as you begin your quilting journey! In this series you will be making a three-block table runner. This 5-session course will introduce you to quilting, with a focus on choosing fabric, proper tools, seam allowances, cutting, thread, etc. Basic knowledge of your sewing machine is a prerequisite. Purchase of a book and fabric for the class project is required.
FALL 2023 Session starting Wednesday October 4th, 10 am to 2 pm. 5 Sessions total.
Minimum of 3/Maximum of 6 students per class required to conduct the class.
Class Schedule: 10/4, 10/11,10/18, 10/25, 11/1
Instructor: Lesley Gebbie
Cost: $75
******************
CURRENT CLASSES ON OUR SCHEDULE!
*******
"PRISM" TABLE RUNNER
First Session Saturday September 16, 2023
Openings are still available for this class!
Shauna Heck will be returning to share the Quiltworx patterns with foundation pieced projects. This will be a three-session class to ensure you have ample time to learn this sewing technique. Our sample (which is not what is shown in this photo) will be made from some of our new Holiday fabrics.
Instructor: Shauna Heck
Class Fee: $50
Covers three (3) Sessions:
September 16, 2023
October 21, 2023
November 11, 2023
Pattern Purchase Required
Kits Available made from some of our new Holiday fabrics,
All purchases related to our classes receive a 15% discount,
******************
MACHINE APPLIQUE/PILLOW WRAP
"WRAPPED IN LOVE"
Thursday September 28, 10 am to 3 pm
Learn how to machine applique while making this pillow wrap for the upcoming Holiday season!
Instructor: Jan Fredrickson
Class Fee: $24
Pattern & Kit purchase required; the Turkey design is available.
******************
Posh Frosty
By Sew Kind of Wonderful
October 14, 2023, 10 am
Join us for this class which is a technique class on the Quick Curve Ruler by Sew Kind of Wonderful.
A merry snowman to last for years. Another Sew Kind of Wonderful Quick Curve Mini ruler quilt class to teach the basics of using this versatile curved ruler.
Quick Curve Ruler from Sew Kind of Wonderful required.
Instructor: Lesley Gebbie
10 am to 3:30 pm
Class Fee $24
Pattern purchase required – Kits will be available.
Intermediate/Beginner familiar with piecing
******************
NEW BLOCK OF THE MONTH
STARTS SEPTEMBER 2023
"BRIDLE PATH"
Our new 12-month BOM is called "Bridle Path" designed by Lynn Wilder as a tribute to the women of the 1930's Depression. This design uses the beautiful fabrics of "Hearthstone" collection by Lynn Wilder. The quilt is 98" x 98".
Still waiting for fabric arrival; but planning to start this BOM in September.
******************
Friday September 22, 10 am to 4 pm
Saturday September 23, 10 am to 2 pm
Quilter's Garage Sale
In Our Barn – Save the Date
CASH ONLY!
Please bring your own shopping bag!
Several of the QGS Staff, Teachers, & Customer Estates are teaming up to bring you a Quilter's garage sale which will be held in our Barn facility! Lots of fabrics, kits, books, patterns, and other quilt related items will be offered at "Barn" sale prices!!!
Details coming soon!
******************
LOOKING TO THE FUTURE FOR NEW OFFERINGS COMING UP!
*******
PAM BUDA'S PIECEMAKER'S SAMPLER
An awesome Sampler style quilt using Pam Buda's new fabric collection of the same name. This 12-month Block of the Month program will start January 2024.
Click here for a look at this collection!
******************
KIM DIEHL SIMPLE WHATNOTS, COLLECTION 13 PROJECTS!
"QUIET GRACE"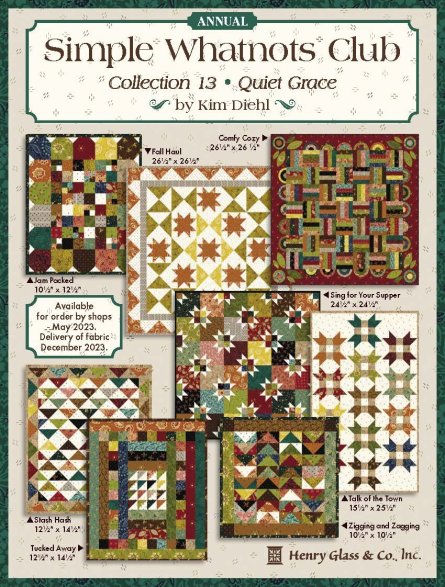 Kim Diehl's 8 EXCLUSIVE DESIGNS for those who signup for the Simple Whatnots Club! These small quilts will be offered monthly over 8 months starting in February 2024! Click here to view this beautiful fabric collection.
******************
KIM DIEHL ANNUAL STITCH-ALONG
BRIMMING OVER
This 6-month Block of the Month program will start March 2024.
Click here for a look at this collection!
******************
Here is a look at upcoming activities:
All Illinois Shop Hop, now through September 30
Saturday Sampler, Saturday, September 2, 10 am
One Day Bus Trip to Quilt Expo, Friday, September 8
Prism Tablerunner 1st Session, Saturday, September 16, 10 am
"Barn Sale" A Quilter's Garage Sale, Friday, September 22, 10 am – 4 pm
"Barn Sale" A Quilter's Garage Sale, Saturday, September 23, 10 am – 2 pm
Machine Applique/Pillow Wrap, Thursday, September 28, 10 am
Great Stash Dash Saving Saturday, September 30, 10 am
Beginning Quilting Class 1st Session, October 5, 10 am
"Posh Santa," Saturday October 14, 10 am
*****************
Quilter's General Store – A Quilter's destination for supplies & inspiration!
6903 Harrison Avenue, Rockford, Illinois 61108
Shop Hours: Monday through Saturday 10 am to 4 pm
Closed Sunday
815-397-5160