HOTFLASH! May 27, 2020
STATUS OF THE SHOP OPERATION
LOTS OF INFORMATION, PLEASE READ ALL!
Hooray, we have our Shop cleaned, flowerpots filled, new fabrics in the Shop, and new quilt samples displayed! The sun porch is opened & all decorated too.
WE ARE REOPENING!!!!!
MONDAY JUNE 1!
Re-Opening & Re-building your stash SALE!
"19" days of great discounts!
June 1st thru June "19"
Receive "19%" off of your total purchase of regular priced merchandise
$4.19 yd. sale fabric on the bolt – 1 yd. minimum"
$2.19 precut fat quarters
Special pricing on some selected kits and shop samples.
Discounts do not apply to already discounted items
As a special thank you to all our loyal customers that showed their support to our shop during our closing, we are having a drawing of TWO (2) $100.00 gift certificates. Enter your name with each purchase to win.
******************
2020 Farm Fest - We Need Your Input Please!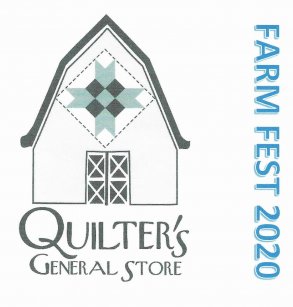 Farm Fest has been moved to September 18th & 19th, with Doug Leko of Antler Quilt Designs as our guest instructor. Please either e-mail us or call the shop and let us know if you are comfortably interested in attending this event. We are evaluating the venue and setup arrangements to make everything as safe as possible.
More details to follow but please let us know your interest level in this event.
******************

JUNE 21 – SEPTEMBER 8, 2020
We are certain that all of you remember the fun of past years' Row by Row event. Well it has been changed up a bit. It is now Quilters Trek!
The theme for 2020 is "True Blue".
This is our Quiters Trek Block

The block is an 18-inch finished block that fits the requirements for the Quilters Trek quilt. Patterns are available only by visiting in person the participating Shops. We also have available fabric kits for purchase. These kits include fabric, pattern, & a specially designed fabric token (limited number of tokens available). Please note that kits are also available for curbside pickup or shipment when ordered via by phone, email, or Facebook message.
The Quilters Trek Quilt Challenge is also on for 2020. Trekkers may create a quilt using a minimum of 32 9-inch blocks (ours qualifies as 4 blocks) designs from at least 8 participating QTrek Shops. The first 2 Trekkers to bring a completed (quilted, bound, labeled) quilt to a participating Shop between July 15 and October 15 will receive 15 fat quarters. A bonus prize will be awarded if the quilt contains the Shop's block!
So Let's Get Trekking!
******************
WHAT ELSE WILL JUNE BRING?
Here is an update on current Shop events:
*****
BLACK DIAMOND BLOCK OF THE MONTH – Available JUNE 1
*****
WELCOME "HOME" BLOCK OF THE MONTH – Available JUNE 1
*****
AMOUR BLOCK OF THE MONTH – Available JUNE 15
*****
HOUSE IN THE MIDDLE
The start of this series has been moved to August
*****
MYSTERY QUILT
Final Clue available in June
*****
FARM GIRL VINTAGE
Lecture sessions will restart on Wednesday July 8 & Saturday July 11
*****
TUCKER UNIVERSITY
The series will pick up on Wednesday July 8 & Saturday July 11
*****
SATURDAY SAMPLER – THE BUTTERFLY QUILT
Lecture sessions will restart on Saturday July 18
*****
BEGINNING QUILTING CLASS
This class will be rescheduled to a later date TBD.
*****
ANNUAL SPRING BUS SHOP HOP

This trip is rescheduled again, now to October 10 & 11, but a lot still depends on when "normal" business in Illinois, Iowa, Minnesota, and Wisconsin can resume and what will be required of all of us. If you are unable to participate on these new dates, please call the Shop and we will gladly refund your payment.
So, stay tuned on this one.
*****
For this reopening our Shop hours will be Monday through Saturday
10 am to 4 pm
STAY SAFE & HEALTHY!
******************
Quilter's General Store – A Quilter's destination for supplies & inspiration!
6903 Harrison Avenue, Rockford, Illinois 61108
Reopening June 1 – Monday through Saturday 10 am to 4 pm
815-397-5160