October 20, 2020
EXCITING NEWS!
OCTOBER 31 – TRICK OR TREAT!
Only TREATS around here! Join us for the best "TREAT" of the day!
Jill Shaulis of Yellow Creek Quilt Designs will be in the Shop on October 31st from 1-3 pm to present her new fabric line from Robert Kaufman called "Mill Pond". She will be sharing her new patterns also made from this fabric line.
Get a sneak peak of this fabulous fabric line by clicking here.
Drawing for prizes and refreshments available.
Make this event part of your Halloween celebration!


******************
PLANNING AHEAD FOR NOVEMBER


QUILTER'S GENERAL STORE
ANNUAL "RETIRED" SAMPLE SALE
SATURDAY NOVEMBER 21, 2020


******************


BLACK FRIDAY WEEK LONG SALE!
November 23 through November 28


******************
NOVEMBER TUCKER UNIVERSITY

Saturday November 7 or Wednesday November 11, 12:30 to 3
November will be the final month of this series of classes. Again, we have a lot of material to cover and we again be going back to the Rapid Fire Lemoyne Star ruler. Three more advanced techniques will be introduced. Three advanced blocks use strip piecing techniques: Lemoyne's as Triangles, Fussy Cut Lemoynes, and Blazing Lemoynes.


Purchase of the ruler (if you already have this ruler that's great!) and 4 design/technique sheets are required.


SIGN UP DEADLINE IS WEDNEDAY OCTOBER 28. Please let us know if you will be attending this class and which day so that we can have the necessary supplies available for you! And for those of you have regularly attended this series of classes you will receive an email; please respond to that on whether you will be joining us for this class on which day too. Also please let us know if you already have the ruler.


******************
WOOL EMBROIDERY CLASSES
We are excited to report that both the Embroidery Workshop and the Buttons & Beads classes were very well received and are FULL!
We look forward to bringing these classes to you starting November 14.


******************
COMING IN SPRING 2021
BEGINNING QUILTING SERIES
Watch for the scheduling of our Beginning Quilting, 6 Session Series coming next Spring. Final dates will be announced in January 2021.


******************

2 AWESOME SALES CONTINUE THROUGH NOVEMBER
CUSTOMER LOYALTY – ANNIVERSARY SALE!


For October & November we will be featuring


THROW BACK THURSDAYS!

To celebrate our 6 year Anniversary we are offering back to the early 2000s fabric pricing!
Regular 44"/45" Cotton Fabrics at $8.99 per yard (1 yard minimum).
Sorry Batiks are not included.


******************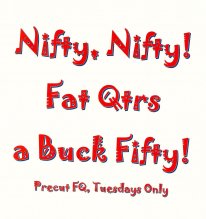 Remember we have resumed the "Nifty, Nifty Buck One Fifty" sale on precut Fat Quarters!
Sale will run every Tuesday now through November 24.
In Store Offer Only!
This is a great time to stock up on Fat Quarters!


******************
Just a reminder – our classroom is available during the weekdays for use by groups who want to get together to sew! With the COVID 19 guidelines in mind, you can safely seat 10 Quilters! Call the Shop to reserve a day to get your Quilting friends together!


******************


STAY SAFE & HEALTHY!


******************
Upcoming Calendar Items
Jill Shaulis Event, Saturday 10/31, 1-3 pm
House in the Middle, Group 1, Thursday 11/5, 10 am
Farm Girl Vintage 2, Saturday 11/7, 10 am
Tucker University, Saturday 11/7, or Wednesday 11/11 12:30 pm
House in the Middle, Group 2, Thursday 11/12, 10 am
Wool Embroidery Workshop, Saturday 11/14, 10 am
Wool Embroidery – Buttons & Beads, Saturday 11/14, 1-4 pm
Retired Sample Sale, Saturday 11/21
******************
Quilter's General Store – A Quilter's destination for supplies & inspiration!
6903 Harrison Avenue, Rockford, Illinois 61108
Shop Hours: Monday through Saturday 10 am to 4 pm
Closed Sunday
815-397-5160