THE GREAT STASH DASH 2020

The Great Stash Dash gets underway tomorrow January 17, 2020! And continues through February 1st.
We have 13 Shops participating in 2020's 16-day shop hop. The required Passport with a specialty bag is available at our Shop for $15. Get your Great Stash Dash passport stamped and receive a 15% discount on your entire purchase (some restrictions may apply). A special coupon for use anytime during 2020 plus the added fifth Saturdays in 2020 present extra savings to you! Remember the purchased Passport is required to participate in this Shop Hop. Get yours today!
*******************
New Shop Hop!
ROCKFORD/BELVIDERE SUPER BOWL SUNDAY SHOP HOP
FEBRUARY 2, 2020
Minimum Shop Hours: 11 am to 3 pm
Our four local Quilt Shops: Quilter's Haven, Quilting in the Valley, Sunshine Stitches, & QGS have teamed up to bring you a shopping alternative to watching football on Sunday February 2! This small local area Shop Hop is offering a 15% discount on your purchases (minimum purchase $12 pretax). Then get your Passport stamped. Getting stamped by all 4 Shops will qualify you for a Grand Prize drawing of 5 yards of fabric from each of the participating shops. That's 20 yards of fabric if you are the Grand Prize winner!
Pick up your Passport at your local Quilt Shop!
*******************
SIGN UP FOR THE UPCOMING BLOCK OF THE MONTH
PROGRAMS IS UNDERWAY!
2020 Saturday Sampler, Tula Pink's "Butterfly Quilt"
3rd Saturday of the Month, February through November, 10 am
Each month construction of blocks will be reviewed along with completion of various sections of this quilt. The quilt pattern is a lot of fun, very colorful & relatively easy. Build the quilt from your stash in any colorway!
The quilt pattern is made up in 3 parts: the blocks, the sections, and then putting it all together. Each month Polly will demo the construction of the blocks and later putting the sections together. The Shop Sample was started with scraps of batiks, then added some cotton and just kept going. There are several photos of this quilt on Tula Pink's website, done in a variety of colors, not just pink.
Purchase of the Pattern is required, $30
No Class Fee!
6 Participants are required to make this class a "go"
*******************
BLACK DIAMOND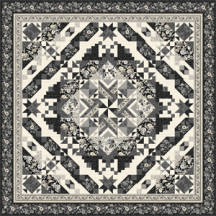 90" x 90"
Enjoy the beauty of a neutral palette in ivory, cream, gray and black in this beautiful quilt top from Kaye England's Blackwood Cottage collection for Wilmington Prints.
The BOM runs for 10 months, each month you will receive piecing directions and fabrics for a section of the quilt top. Backing is not included.
Starting March 15th
$24.00 per month
*******************
ALL MY AMOUR by Monique Jacobs

70" x 88"
This floral and geometric cotton collection is a very romantic collection designed by Monique for Maywood Studio. Textured blenders in purple and green, a French script print, and a delicate paisley provide a beautiful collection for this quilt. A beautiful border stripe is the 'piece de resistance' with options for a double, single, or ribbon stripe.
6-month program kicks off April 2020
$30 per month
******************
UPCOMING CLASSES AT QGS!
FEBRUARY TUCKER UNIVERSITY CLASS
CORNER POP

Saturday February 1 or Wednesday February 5
The next Tucker University class will be Saturday February 1 or Wednesday February 5. In this session we will be demonstrating the Corner Pop ruler and the various design options this ruler gives you.
This is a common modification to several basic quilting blocks which adds a little "pop" to these blocks. This look has commonly been created using the "folded corner" technique. With that method the result was either too big, too small, crooked, and way too wasteful. Correct use of this ruler gives you a perfect corner pop, expertly cutting the base unit and the corner piece.
Purchase of the ruler (if you already have this ruler that's great!) and a design sheet is required.
SIGN UP DEADLINE IS FRIDAY JANUARY 24th. Please let us know if you will be attending this class so that we can have the necessary supplies available for you! And for those of you have regularly attended this series of classes you will receive an email; please respond to that on whether you will be joining us for this class too. Also please let us know if you already have the ruler.
******************
COUNTY STAR BARN

Saturday February 22, 10 am to 3 pm
The County Star Barn Quilt by Violet Craft is a foundation paper pieced pattern made with a set of templates (foundation papers) that are repeated in different colors to make the unique starry layout. Block size options are 12" for a 40" x 40" finished size or 22" for a 74" x 74" finished size. The blocks can be arranged in many ways to create unique designs.
Class Fee: $24
Instructor: Lesley Gebbie
Pattern purchase required.
Kits are available using the new Violet Craft Modern Classics fabrics for Robert Kaufman
******************
SAILING WITH THE STARS
Open Gate Quilts, Monique Jacobs

69" x 84"
Saturday March 14, 10 am to 3 pm
Combining Monique's easy piecing techniques and her love for dramatic quilts, Sailing Among the Stars may look hard but she makes it easy! Fat Quarter Friendly quilt in a perfect size - 69" x 84" Featured in Coastal Getaway, designed by Monique for Maywood Studio.
Class Fee: $40
Instructor: Monique Jacobs
Pattern purchase required.
Kits are available using Monique's new Batik fabric line Coastal Getaway for Maywood Studio


******************
ANNUAL SPRING BUS SHOP HOP

Saturday/Sunday, April 18 & 19, 2020
Join us for a fun filled trip! Ride in comfort on a chartered bus and
leave the driving to us! Bus trip includes transportation, one-night lodging (double occupancy), meals, and snacks all for only $175.00.
(This Fee is non-refundable but is transferable.)
The Shops participating in this Bus Shop Hop include:
The Stitchery, Delavan, WI
Quintessential Quilts, Reedsburg, WI
Quilt Basket 'N' Creations, Viroqua, WI
Calico Hutch Quilt Shop, Hayward, MN
Quilter's Window, New Hampton, IA
Merry's Stitchins, Jesup, IA
Quilt This, Dubuque, IA
Quilter's General Store, Rockford, IL
Stop in or call the Shop to sign up. Deposit of $100 required at sign up.
******************
Winter Hours are now in affect and continue through February 29th. During this period, we will close at 4 pm Monday through Saturday.
******************
Reminders for coming weeks:
January, Mystery Quilt, 1st Clue Available during the month
Friday January 17 Great Stash Dash Shop Hop Starts!
Saturday January 25, Beginning Wool Applique, 10 am
Saturday February 1, Farm Girl Vintage #2, 10 am
Saturday February 1 or Wednesday February 5, Tucker University, 12:30 pm
******************
Quilter's General Store – A Quilter's destination for supplies & inspiration!
6903 Harrison Avenue, Rockford, Illinois 61108
Shop Hours: Monday – Saturday, 10 am to 4 pm, Closed on Sunday
815-397-5160